Are you looking for baking classes in Delhi to become a professional baker?
In a city as big as Delhi, you have unlimited options. But to kick-start your baking career, you must find a perfect baking institute that suits your requirements.
Not just that, baking classes play a crucial role in shaping your professional baking journey. Whether you want to start your bakery afterwards or work at one, your success will largely depend on how well you can bake.
Best Bakery Classes & Courses in Delhi for Aspiring Professional Bakers
Your ideal baking school must have world-class kitchen facilities, a staff of expert chefs, and carefully designed baking courses to learn basic and advanced baking skills.
But before we get into all that, you might be wondering why you need to join the baking classes, what will come after completing a baking course, and how you can find an ideal baking school.
So in this article, we will guide you through the following:
Why do you need to join baking classes

What are the benefits of joining baking classes

What are the things that you should look for in a baking class
We will discuss why baking classes are a better option than online courses. And if you stick to the end of the article, as a bonus, we will share with you the details of our top pick for the best baking school in Delhi.
Let's go!
How To Go From A Beginner To A Professional Baker in Just 6 Months
To become a professional baker, you need to learn and master advanced baking skills. As a professional baker, you are not only required to bake delicious assorted bread and cakes but also decorate like an experienced pâtissière.
You need to know about the correct baking equipment, the suitable recipes, the science behind different ingredients, the decoration techniques, and much more.
As an aspiring baker, you might already have some knowledge of baking. But even if you're a complete beginner, baking classes are designed to help you learn step-by-step from the very basics to advanced techniques.
What is another alternative to a baking class, you might ask? Besides baking classes, you can learn from online courses and YouTube videos.
But this is more suitable for hobby bakers. You will miss out on many essential learnings that ultimately set you apart as a professional chef from hobby bakers.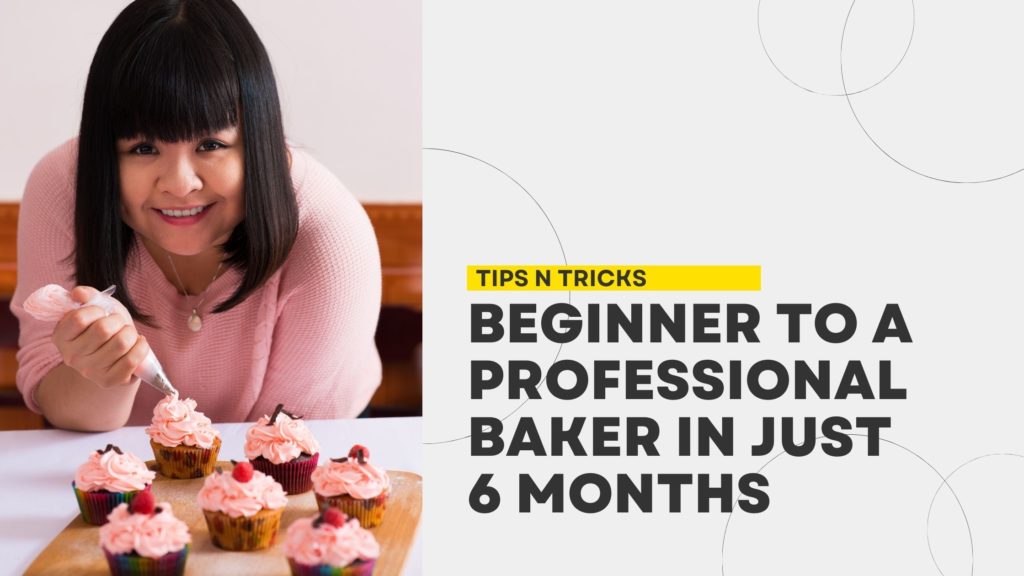 You will miss out on first-hand professional learning experience under the supervision of an expert chef. Also, you will find it challenging to master advanced baking skills such as preparing a 3D Celebration Cake.
Not to mention, baking classes offer you a wholesome baking environment and a chance to train yourself with modern, professional baking tools that you will miss out on while learning on your own at home.
What more, you ask? In a baking class, you will get to learn how to start a bakery or become a chef at your dream bakery. If you're serious about starting a career in the baking industry, you must consider learning at a top baking school.
Here are the benefits of joining a baking class.
What Are The Benefits Of Joining Baking Classes?
As we mentioned earlier, baking classes offer a wholesome baking experience. Here's what a baking course provides you:
You get to learn the theory of baking, which includes the history of baking, the science behind different ingredients, and the prospects of baking.

You get to bake using state-of-the-art baking equipment, which ensures that you're job-ready upon completing your baking classes – whether you want to work at a cafe or start your bakery.

You are under the supervision of expert chefs who are always there to meet your questions and doubts.

You get to practice and master the advanced skills and find your unique style as a professional baker.

You get to learn about the baking certifications to become a professional chef capable of working at high-end bakeries.

You get to learn all about the baking industry and how to start a bakery.
What Should You Look For In A Baking Class?
Now that you understand why you need to join a baking class to become a professional baker, here's a guide on finding an ideal baking class for you.
The first thing you should look for in a baking class is an online course or on-the-site training. Your preference should be to join an institute when you get to work and practice in their kitchens.
Secondly, you must carefully pick the right course for you. For example, there are courses exclusively designed for aspiring bakers, professional bakers, aspiring bakery owners, former hotel management students, etc.
In your case, you want to become a professional baker. So you must look for a baking class that teaches you basic to advanced baking skills and help you prepare for reputed baking certification exams.
Next up, you should do some research about the teaching staff. You want to be a part of a baking class with the best team. You can look for online reviews and talk to former students of the institute about the same.
Also, do not forget to check for the tuition fee and additional perks and benefits before enrolling in a baking class.
As promised, as a bonus, here is our top pick for the best baking classes in Delhi – Truffle Nation Baking School.
We highly recommend joining the Truffle Nation if you want to become a professional baker in under 5 months.
Why TruffleNation?
Truffle Nation is easily our top pick because of its world-class learning facilities, a strong network of successful students, and knowledgeable teaching staff.
They offer a variety of courses based on your skillset and counselling for your career in the baking industry.
If starting your bakery is why you want to become a professional baker, Truffle Nation helps you with additional marketing lessons.
As a student at Truffle Nation, you get personalised attention from an expert chef guiding you through every step of professional baking.
Truffle Nation is more than just learning how to bake delicious cakes, assorted bread, pastry, etc. They help you find your unique baking style and become a standout baker.
Here's why we highly recommend TruffleNation:
Eggless Recipes
At Truffle Nation, you get to learn two different recipes for baked goods – one using eggs and one without using eggs.
4:1 Students To Chef Ratio
Truffle Nation follows a strict 4:1 student to chef policy to ensure that each student gets well-deserved guidance from the expert.
You'll be drawn into a group of four students being supervised by one chef during the course.
This helps an individual get familiar with their unique baking style, thanks to the personalised supervision of experts.
100% Hands-On Training
Truffle Nation baking classes are hosted at their Delhi-based institute. You will be physically present for every class at Truffle Nation kitchens.
Here, the experts will first teach you the theory and guide you in person on how to bake. Not only that, but following that, each student is required to bake and replicate the chef's recipe and, at times, create new recipes.
This practical approach to learning helps you master the advanced level of baking skills in no time. And since you get enough training/practice working in Truffle Nation kitchens during your classes, you are job-read upon completing the course.
Personal Branding & Marketing Sessions
To become a successful professional baker, you need to know more than baking. Especially if you're planning to start a bakery afterwards. Truffle Nation has partnered up with top marketing experts who share their in-depth knowledge of the baking industry and help you with branding and marketing strategies for your future endeavours.
Multiple Success Stories & Bakery Owners
As mentioned earlier, we love Truffle Nation because of its successful former students. No matter which direction you go in India, you will find proud students of Truffle Nation who are now running successful bakeries and cafes.
Quicker, Cheaper, and Better
Most of the courses at Truffle Nation are designed to help a complete beginner become a professional chef in just 6 months.
Another reason we like TN Baking Classes is that it is much more cost-effective than the fee you will pay for a traditional Hotel Management course.
Not to mention, Truffle Nation's baking classes have an extensive curriculum that covers all aspects of baking – from essential to advanced levels.
How To Enroll?
If you've decided to join Truffle Nation Baking School, you're in luck.
They're launching a new batch of baking classes to become a professional baker next month.
To adhere to their high standards of teaching, they are limiting enrolments to 25 students per batch. So act quickly before that batch is complete. You don't want to miss out on this chance to kick-start your professional baking journey.
If you want to enrol or learn more about their baking classes, visit TruffleNation.com.
You can also give them a call at 9971127210.
But hurry, their batches get filled real quick.
Your dream of becoming a professional baker is just one text away.
Go for it!
We hope that you found this article helpful. We hope to answer all your questions about joining a baking class to become a professional baker.
Good luck!
Frequently Asked questions by Aspiring Bakers
Is baking still a profitable profession?
Baking can be a very profitable profession if you know how to appropriately market your products and services. There are many ways to make money from baking, including selling baked goods at farmers' markets, setting up a baking business, or teaching baking classes. If you have a passion for baking and take the time to learn about the company, you can be very successful.
How much does it cost to open a cafe?
Assuming you're referring to a brick and mortar cafe, the costs can range anywhere from 20 Lakhs to 70 Lakhs. This varies greatly depending on the cafe's location, size, and amenities. Additionally, costs like inventory, staff, marketing, and miscellaneous startup costs can drive the total cost up even further. For aspiring bakers looking to open their cafe, it's essential to do thorough research and create a detailed business plan to ensure that they are prepared for all the potential costs involved.
How much should I invest in a small bakery?
If you're thinking about starting a small bakery, one of the first questions you'll need to answer is how much money you'll need to invest. The amount you'll need to start your business will depend on several factors, including the size and location of your bakery, the type of equipment you'll need, and the number of employees you'll need to hire.
To get an idea of how much money you'll need to start your small bakery, take a look at some of the estimated costs below:
-Rent or mortgage payments for your bakery space: Rs. 25,000 to Rs. 45,000 per month
-Bakery equipment: Rs. 2.5 lakhs to Rs. 20 Lakhs
-Supplies: Rs. 25,000 to Rs. 100,000 per month per month
-Employees: Rs. 25,000 to Rs. 200,000 per month per month
Remember that these are just estimates – your actual costs will depend on your specific business needs. Once you have a better idea of how much money you'll need to start your small bakery, you can plan and save for your new business venture.
What are some common mistakes made by beginner bakers?
There are a few common mistakes that beginner bakers make. One is not measuring the ingredients correctly. Baking is a science, so measuring the ingredients accurately to get the desired results is essential.
Another mistake is not preheating the oven before baking. This can cause the baked goods to come out undercooked or uneven.
Another mistake is overmixing the batter or dough, resulting in strict baked goods. Lastly, beginner bakers sometimes forget to account that baking times are estimates, so they may need to check on their baked goods a few minutes before or after the suggested time.
What are the most popular bakery items?
A few items tend to be more popular than others when it comes to bakery items. These include cupcakes, cookies, cake pops, and cake balls. Other popular items include pies, pastries, and doughnuts.
How do I make my bakery unique?
There are many things you can do to make your bakery stand out from the rest. First, you need to find your niche. Are you going to specialise in cupcakes, pies, pastries, or something else? Once you've decided what you're going to focus on, perfect your recipes and make sure your baked goods are always fresh and delicious.
You also need to have excellent customer service – be friendly and accommodating to all your customers, no matter how busy you are. Creating a warm and inviting atmosphere in your bakery will make people want to return.
And finally, don't forget to promote your business! Ensure people know where you are and what you offer by advertising online and in your community.